We have all heard the phrase 'fighting like cats and dogs. It become a go-to phrase to describe two groups fighting.
As it has been around for such a long time it's always going to be in the back of a dog owner's mind when considering adding a cat to the family.
So, are Cocker Spaniels good with cats?
Yes. Contrary to this say cats and dogs can become great friends if properly introduced and given time to get used to each other.
There are countless households with cats and dogs together getting along well.
While Cocker Spaniels are known for their amenable, affectionate nature they are all still individuals with their own likes, dislikes, and personality.
There is no way to truly know how one will react before being placed in the situation.
New experiences can be good or bad for your dog and the way that goes can influence their attitude towards it in the future.
If your dog has had previous bad experiences with cats it might be a bit more apprehensive. Being the only pet in the household can also make your dog a little warier.
This article will help you understand how to encourage your Cocker Spaniel and cat to become friends.
I've also added my nine top tips on fostering that positive relationship.
What Makes Cocker Spaniels Good with Cats?
Apart from having those cute long ears Cocker Spaniels are best known for their gentle, loving disposition.
Their playful, curious nature comes out when any stranger is around. This could be visitors, people in the street, other dogs, or even a cat.
Cocker Spaniels love to make new friends.
Pair these qualities with their eagerness to please their owners and you have a perfect companion for a cat.
Dogs which have been well socialised as puppies find it much easier to accept the new arrival.
But Cocker Spaniels were Bred to Hunt?
Yes, before being one of the best companion dogs around Cocker Spaniels were bred to hunt.
The prey they were bred to hunt was birds, not mammals.
There are prey-driven dogs that you may hesitate to pair with a cat. This includes Pitbulls, Greyhounds, or Huskies. All of these dog breeds were bred for fighting or hunting small animals.
Cocker Spaniels however might chase the cat but not attack it. Just looking for someone to play with.
How Should I Introduce my Cocker Spaniel to a Cat?
You will want to spend some time planning this one in advance. A bit of forethought can increase the odds that your cat and dog hit it off nicely.
Ensure that the first interaction is supervised and very structured.
Let the cat roam around the house for a few days so your Cocker begins to pick up their scent. This can help your dog become comfortable with the smells easing the surprise.
Next, make sure both the cat and dog have a safe space to retreat to and keep your dog on a leash.
Try to gauge how well they are reacting. You don't want to force an interaction. This could damage their chances of a good relationship or even lead to conflict.
Keep repeating this can gradually them come together. Once they are accustomed to each other's company they will begin to relax around each other.
Most of the time Cockers and cats become friends. Sometimes they'll just tolerate each other, or even just ignore each other. While being friends would be ideal any of these situations would be acceptable.
Top Tips to Help your Cocker Spaniel and Cat Get Along
So, now on to our top tips to get help your Cocker Spaniel and cat break the ice.
Start the Process Young
If possible you'll want to start the introduction as early as possible. Ideally, you'll have the Cocker Spaniel puppy and kitten grow up together.
At this young age, puppies are impressionable and most open to possibility and change.
Many homes start with one and introduce the other years later and this is okay too. May just require a few other considerations, but we will get on to this later.
Plan the Introduction and Start Slow
We touched on this earlier. I've heard too many stories about animals being pushed together with less than ideal outcomes.
Then the owner just blames the animals where in most cases it was just approached poorly.
Anxiety, conflict, and fear are all common results of this. This is easily avoidable though.
Plan everything in advance and let things progress naturally. It will move at its own pace. There is no way to 100% know how it will go before they meet.
Keep an Eye on How Rough they Play
Ensure that interactions are supervised between the cat and dog. Cocker Spaniels can be hyper at times. This can be a little too rough for your cat. The last thing you want is your cat being scared of the dog.
If you do notice play being a bit too much or either of them are looking for space but not getting any you should separate them.
Cat hisses or your Cocker growling could be signs that playtime is over. The next thing you know your cat is giving the poor Cocker spaniel a swipe.
Give Each Animal Their Own Safe Space
By making sure both the cat and dog have safe places to go you keep the option of taking a break on the table.
This can help avoid either animals feeling threatened or cornered. Somewhere where it can go wrong fast.
A dog bed can cat tree in a separate place is a good idea.
Equal Attention
Cocker Spaniels can get jealous. I can tell you this first hand. If they don't feel they are getting their fair share of attention they'll try to get in the middle of whatever is stopping them from getting attention.
Do your best not to favour one over the other and it can ease tension between both.
Have Patience
Patience is your friend when it comes to your cat and dog becoming friends. They'll do it in their own time.
Don't force interactions and let them get used to each other at their own pace.
Positive Reinforcement
Positive reinforcement is a go-to tool whenever you are doing any Cocker Spaniel training. It can also work here.
Reward and praise positive interactions between your cat and dog. This will help encourage good behaviour. Remember Cocker Spaniel love to please their owners.
Feed The Cat and Dog in Different Places
Just like giving your pets their own safe space keeping their food separate is a good idea too.
You could also consider varying the feeding times or not having the other animal around.
Animals can be quite protective when it comes to food. Some even have problems with resource guarding. If your dog/cat is over the other's food it could cause a fight.
Cocker Spaniels love food. They won't like anyone messing with it!
Also, the food isn't designed for the other animal. Some ingredients could be poisonous or lead to health problems.
Cat food definitely isn't in the ideal Cocker Spaniel diet.
Tire your Dog Out Before the Introduction
Taking your dog out for a long walk pre-introduction is a great idea.
A tired dog is only looking to chill out after a big adventure. This can help smooth over any craziness from your dog's side during the first interaction.
Introducing an Adult Cocker Spaniel to a Cat
Introducing an adult Cocker Spaniel is a very similar process to a puppy, however, there are a few key differences worth noting.
Firstly, remember the cat is a stranger in the dog's home. All of the previous advice still applies but you will want to take it slower.
Have face-to-face meetings with the animals to help them get accustomed to each other, but not physically interact. Repeat this daily until your Cocker become accustomed to it.
Don't place a clock on this, it will naturally develop as they grow.
Try to make sure that everything else stays familiar during these interactions. Have their favourite toy and safe space there to help your Cocker remain comfortable. This can help your dog be less on edge and aid progress.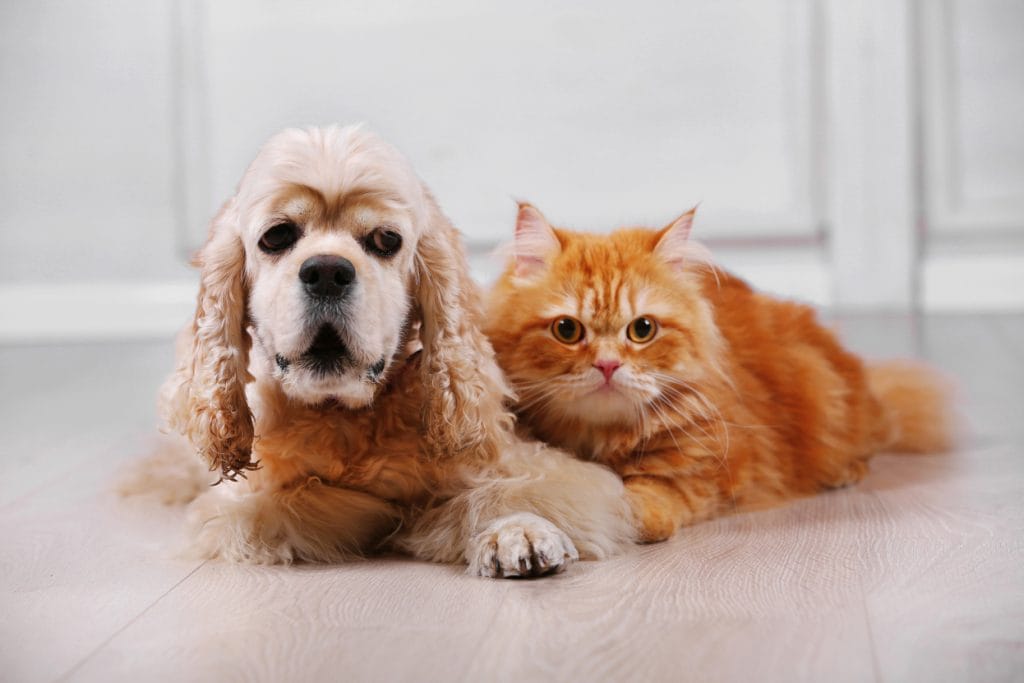 Conclusion
So, are Cocker Spaniels good with cats? Yes!
Cats and dogs have a reputation for not getting along. Fortunately for any Cocker Spaniel owner looking to get a cat, this is not true.
Of course, there are specific circumstances to consider such as if a Cocker has had a bad experience with a cat in the past.
Generally speaking, though they should be okay and become good friends over time.
If you are adding a new member to your family remember the tips above and don't rush the process. All dogs are individuals and have their own quirks. Just understand that your Cocker Spaniel will connect with the cat in its own time.
Oh, and one final tip is to keep your cat's litter box out of reach of your dog. They will likely just eat the droppings. Also not something you should see in a dog's diet.
And keep in mind many dog owners have brought cats or other animals into their homes even in later life with no negative consequences.