Cocker Spaniels come in a wide range of colours. Cockers with chocolate coats are some of the rarest you will see.
Given how uncommon this colouring is brown Cocker Spaniels are highly sought after by potential dog parents.
And who can blame them?
That beautiful chocolate coat paired with that very affectionate nature Cocker Spaniels are well known for makes for a brilliant family pet.
In this article, we will cover everything you need to know about chocolate Cocker Spaniels including where to get one and how much you should expect to pay.
Let's get started!
Are Chocolate Cocker Spaniels Rare?
Yes, Cockers with these colourings are pretty uncommon. Finding a chocolate Cocker Spaniel puppy is quite a challenge.
There are two dozen variations of Cocker coats. The most common being black and white, blue roan, or black. From there other coats become more difficult to find.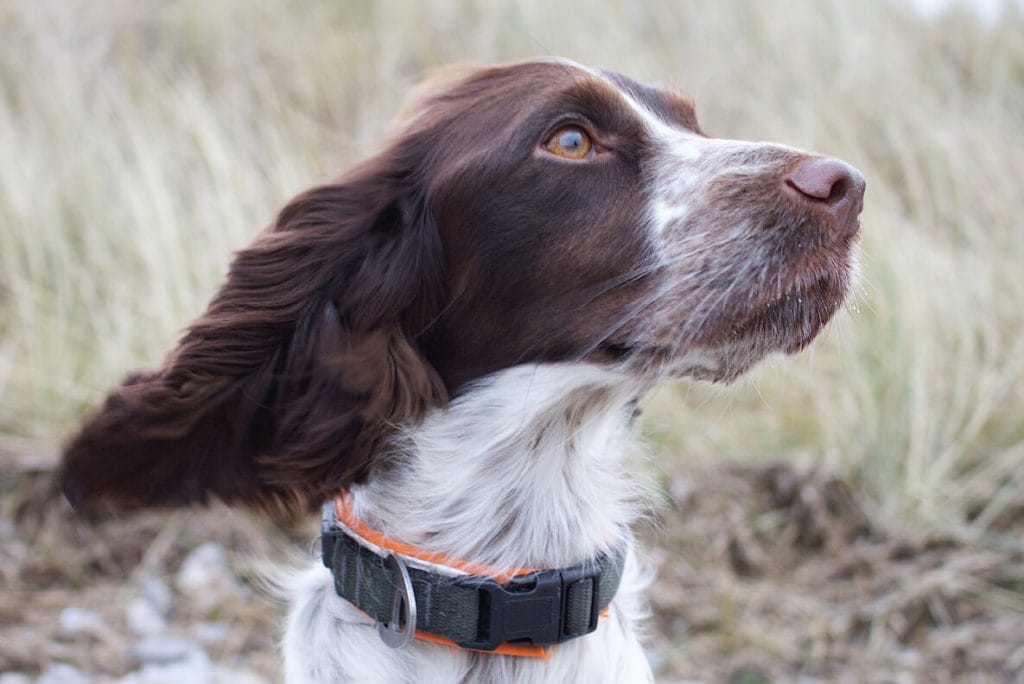 Are There Any Risks to Chocolate Cocker Spaniels?
There are a few things you should consider when getting a chocolate Cocker Spaniel. The main area of concern relates to buying a puppy which is born from poor breeding practices.
There is also some evidence which suggests that solid-coloured Cocker Spaniels are more likely to be aggressive. Although the vast majority will be kind and loving family pets this will be something to consider.
Health
Given the higher prices that can be achieved by dog breeders, there are some who aim to exclusively breed brown Cocker Spaniels.
This can lead to poor breeding practices being followed and could lead to litters who are more susceptible to health problems.
When buying a chocolate Cocker Spaniel you will want to quiz the breeder about the health history of the parents including any hereditary illnesses they have suffered from. A good breeder will not mate dogs with a history of health problems. A breeder motivated by money alone may overlook this for a payday.
Also, make sure you see where the puppies have been living. This can give you a clear picture of the type of breeder you are dealing with.
Home breeders are the best in my experience.
Good breeders will be happy to share as much information as required. In fact, this is a positive signal for the breeder too that their puppy will be going to a loving home.
Keep this advice in mind and you should have no concerns about health problems when buying Chocolate Cocker Spaniel puppies.
Temperament
The vast majority of brown Cocker Spaniels will have that very affectionate amenable outlook that we all love about Cocker Spaniels.
There have been studies that have shown that solid coloured and male Cocker Spaniels have more chance of being aggressive. If your brown Cocker matches these traits this might be something you experience.
That said, the odds are that you will have a beautiful brown pup who will be a brilliant family dog.
Are All Chocolate Cocker Spaniels the Same Colour?
Not quite. There are actually quite a few variations of brown Cocker spaniels. This varies from solid-coloured dogs to dogs which have a dash of chocolate mixed with another colour.
Here are all of the combinations which you can find.
Solid Brown Cocker Spaniels
When you think of a chocolate Cocker Spaniel this will be what you most likely picture in your mind. A dog which is completely brown from head to tail.
This type of chocolate Cockers is very difficult to come by. It is more likely that it will be a brown coat mixed with another colour like the rest on this list.
Chocolate Roan Cocker Spaniels (liver roan)
Liver roan Cocker Spaniels have a blend of brown and white coats.
The pattern on the coat will be unique to the dog. The Chocolate roan will have quite a spotty coat with white and brown throughout.
No matter how it looks it is easy to say this coat makes for a beautiful Cocker Spaniel.
Chocolate and Tan Cocker Spaniels (liver and tan)
This style of Cocker Spaniel coat is very similar to the previous coat but will be a combination of dark brown chocolate hair and light brown.
The exact coat will again vary but is most commonly large solid colours.
Chocolate and White Cocker Spaniels (liver and white)
A brown and white Cocker Spaniel is similar to the chocolate roan Cocker but will have large sections of solid colours throughout the coat. It could even be just the paws one colour and the rest a different one.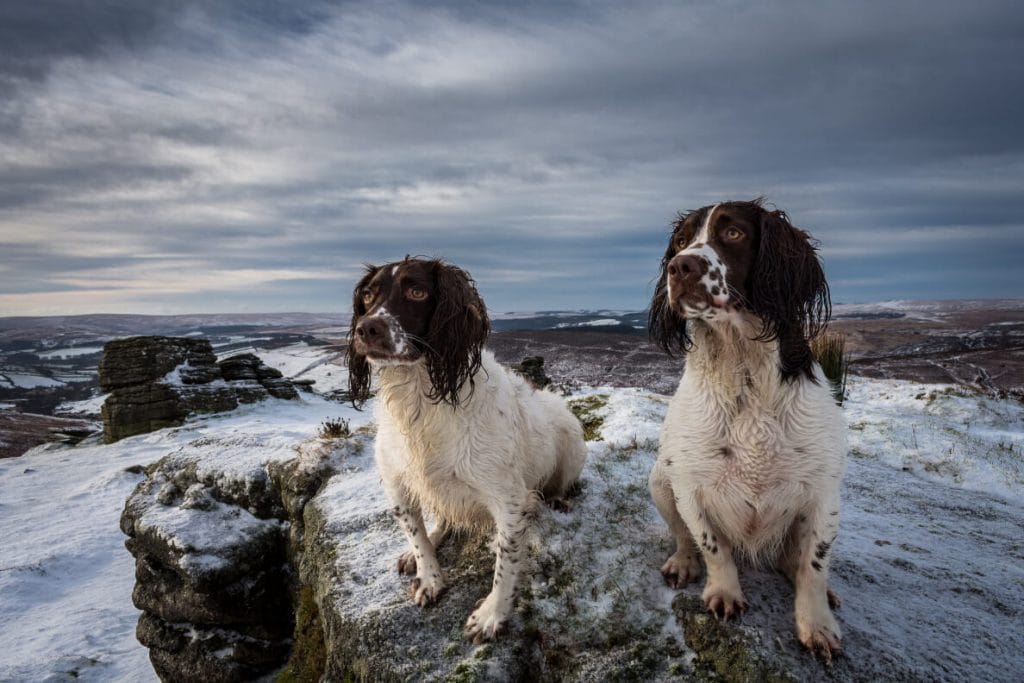 How Can I Find a Chocolate Cocker Spaniel?
The best place to start a hunt for a chocolate Cocker Spaniel is online. There are few angles you can approach this from this includes finding contact details on local breeders or looking for websites which list available litters.
Local Breeders
Here you will just search online for Cocker Spaniel breeders in your local area and give them a call.
Ask if they have any available litters or upcoming litters. Also, use this opportunity to feel out the breeder with some surface level questions about the parents to get a feel. If they are really close by you can even arrange a quick visit.
One big benefit of this approach is that if there is an upcoming litter you could be able to reserve a puppy before they were advertised.
Puppy Websites
There are quite a few websites which list available litters. This would be the way I would approach getting a chocolate Cocker Spaniel in the first instance. Many of the breeders with available litters will have them listed on here.
To save you time from having to find these website online I've listed the key sites in the USA and UK and made the link just show available chocolate Cocker Spaniels where possible.
UK Chocolate Cocker Websites
USA Chocolate Cocker Websites
How Much Does a Chocolate Cocker Spaniels Cost?
Chocolate Cockers are more expensive because of their rarity. This means you will pay a bit more for a Cocker Spaniel with these colourings than one of the more commonly seen coats.
The price of a chocolate Cocker Spaniel puppy will vary depending on where you are.
For this article, I have done a little research to give you an idea of what you can expect to pay. These figures are accurate at the time of writing and should be used as an estimate of what you can expect to pay.
Chocolate Cocker Spaniel Prices in the UK
£1000 - chocolate and tan Cocker Spaniel puppy
£1250 - chocolate Cocker Spaniel puppy
£1500 - chocolate Cocker Spaniel puppy
Prices from Preloved
Chocolate Cocker Spaniel Prices in America
$2950 - liver roan Cocker Spaniel
$2850 - chocolate Cocker Spaniel
$2500 - chocolate and tan Cocker Spaniel
Prices from New Doggy & Mary's Cocker Haven
Can I Get a Chocolate Cocker Spaniel as a Rescue Dog?
Getting a brown Cocker Spaniel as a rescue dog is definitely possible. But given how rare they are you it might be difficult to find.
The best bet you could have is to call around your local rescues and ask if they have any dogs which match that criteria.
Luckily there are a few website you can start your search.
UK Websites
USA Websites
Should I Get a Chocolate Cocker Spaniel?
Yes. Chocolate Cocker Spaniels make brilliant family pets with their affectionate temperament, high trainability, and beautiful chocolate coats as a bonus.
If you like the colours and have found a good home breeder with a Chocolate Cocker Spaniel puppy go ahead and add a new member to your family.
You might pay a little more given how uncommon this type of Cocker Spaniel is. But in the long run, a few hundred extra really doesn't matter. A dog is for life.
As with any time you are considering getting a puppy be sure to do your due diligence to ensure everything checks out. The last thing you want to do is end up getting a dog from a puppy mill with health problems.
We actually have a guide on advice when getting a Cocker Spaniel puppy. Check it out if you are considering becoming a new dog parent.
Conclusion
If you have made it this far you now know everything you need to to add a beautiful chocolate Cocker Spaniel puppy to your family.
Your chocolate dog could be an English Cocker Spaniel or an American Cocker Spaniel. These colours are found in both variations of the breed. Both are equally desired and absolutely stunning dogs.
Hopefully the external resources linked above will help you find your new chocolate Cocker spaniel with ease.
Make sure you carefully vet any dog breeder before taking a puppy on. Especially seeing the higher sale prices this colour of Cocker. Take your time to do your due diligence and you are sure to find your new best friend in no time at all.